Tuesday, March 19, 2013
Companies and Communities Book Sale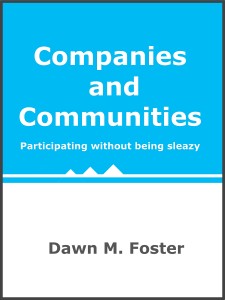 I published the book, Companies and Communities: Participating without being sleazy, in March 2009. For some reason, people are still buying it, despite its increasing age! I just paged through it, and while a few sections have information that just isnt relevant now, there is still some good stuff in it. However, there is enough outdated content that I just cant justify the original price tag, so I decided to permanently reduce the price while I decide if I want to take the time to update and revise it for a second edition.
Here are the newly reduced prices
Paperback book is available for $9.99.
Kindle version from Amazon for $4.99.
Buy the PDF eBook for $6.99.